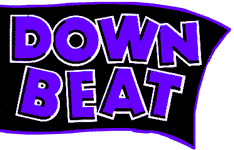 1977
Tim Buckley: Chronicle of a Starsailor
by Lee Underwood
The last time I saw Tim Buckley he was dead. He lay in his coffin at the Wilshire Funeral Home in Santa Monica wearing the black silk shirt his wife had made for him, his arms crossed over his chest. He held a single yellow orchid between his thumb and the first two slightly gnarled fingers of his left hand.
("Hell, no, I can't barre a guitar chord! How do you expect me to play a barre-chord with these cripples, dummy?" He held up the once-broken fingers and tweedled them, grinning like a pixie, Groucho-Marxing his bushy eyebrows. "Price you pay when you're short, but insist on playing high school quarterback anyway so you can get the A-Number One--I mean primo--shot at the cheerleaders. Heeeeey, baby," he clowned in his punchiest Bell Gardens/Anaheim streetrat accent. "Wanna hit the parking lot at half-time and sniff a little amyl nitrite?")
Coroner's Report, Dr. Joseph H. Choi: Timothy Charles Buckley III died on June 29, 1975 at 9:42pm from acute hero in/morphine and ethanol intoxication due to inhalation and ingestion of overdose.
The unctuous Mexican undertaker tapped me on the shoulder. "They're ready for you now," he whispered. I peeked between the curtains--musicians, Tim's old friends from high school, old friends from the early days in New York, weeping once-upon-a-time ex-loverladies, newcomer musicians and friends from the deathnumb present, some 200 of them in all. They sat in rows and waited. Tim's wife, Judy; her blond-haired son, Taylor; Tim's mother, Elaine; and Tim's sister, Katey, sat on straight-back chairs in a special row in front.
"Okay, y'babies!" I battlecried to myself. "Time for the dream-sequence!" echoing Tim's swishy way of chortling the old Judy Garland movie line just before we parted the curtains at Carnegie Hall, Philharmonic Hall, Queen Elizabeth Hall in London, and all the other concert halls and clubs and grubby barroom stages we tramped together from the beginning in 1966 at the Night Owl in New York, just before returning to L.A. to record the first album.
Tim was not daunted in the least... he plunged himself into the big-city bright lights, sleazy streets, backrooms, bedrooms and barrooms of concrete glass and steel urban America.
I set my papers on the podium. The room settled into silence. I walked over to the coffin and took a final look at Timmy.
He had been scrunched down a little too far. His skin looked pale, pink and waxey; his whiskers had already begun to grow through the makeup.
("I know, I know," I told him silently, "No, I won't bore you. Of course I'll keep the humor. Yes, yes, yes--style, style, style. Ratta-ratta-ratta, Warden. Don't worry... Just don't snore on me, f'Chrise sake... Fed the legend to the end, didn't you. Dirty trick, though. Maybe decadence wasn't so chic after all... Look at what De Golden Throat done got us into now... Maybe you were right, live ha rd, die young and pretty and all that. Gone to The Big Gig In The Sky now, huh? 28 years old. Jesus... What the hell, you always said it, anyway: old singers never die, they just go to Vegas. Schmuck... Now you're up there hustling Saint Peter for the trumpet section. Oh, well... At least you won't go bald. Let's get it on.")
I turned and walked back to the podium and adjusted the mike. "For those of you who don't know me, my name is Lee Underwood. I toured with Tim and played lead guitar on seven of his nine albums. In all the years I played with him, I never got bored on stage.
"I watched him grow from a Bambi-eyed little boy poet prattling about paper hearts and Valentines, into a hurricane-haired rock and roller, into a madman/genius improvisational vocalist who blew all the pups away, and finally into a lowdown, roadhouse, sex-thumping stomper who injected steam and blood and juice into an R&B music nobody cared about.
"From 1966 when I met him, and gave him my music and my knowledge and my loyalty, right up until this very end, he was my best friend. Just as you, I loved him, too..."
Tim was born on Valentine's Day in Washington, D.C. in 1947. He spent the first ten years of his life in Amsterdam, New York, before moving to Southern California, first to Bell Gardens, then to Anaheim.
"I was only about 12 years old, and I had probably five or six notes to my voice. I heard a recording of a trumpet player playing things way up there. So I tried to reach those notes. Little Richard got them. It was like a falsetto scream. I'd ride my bicycle around the neighborhood screaming at the buses until I couldn't go any higher.
"Then one day I heard the opposite end, the baritone sax, waaaay...doooown...there. I said, 'There's gotta be a way to do that.'
"So I practiced, and I screamed, and I practiced some more, until I finally ended up with my five-to-five-and-a-half octave range." (From an unpublished interview with Frankie Nemko.)
As a boy, he loved Johnny Cash, Hank Williams and Hank Thompson. He also loved the occasional Nat King Cole, Johnny Mathis or Miles Davis albums his mother used to play. But country is what he lived.
By the time he graduated from high school, he and his poet friend Larry Beckett had written some 20 songs together, which they took to Herb Cohen, who signed Tim with Elektra. Tim was 18 when he signed, 19 when he recorded Tim Buckley.
Tim liked the melodic and harmonic flow of Valentine Melody, Song of the Magician, and Song Slowly Song, but for the most part, he later regarded his first effort as just that: a first effort, naive, stiff, quaky and innocent. It was, however, a ticket into the marketplace. There, because he played an acoustic guitar and strummed, they called him a "folk" singer, a misnomer from which he never freed himself.

© Unknown
Author Underwood with Tim Buckley at the Balloon Farm in New York in 1966. Note Tim's six-string electric guitar.

In 1966 he rehearsed a great deal, working out specific harmonies, specific lines and specific beginnings and endings. The songs were "objects," which were usually repeated note-for-note in performance.

The record went nowhere, but Tim was not daunted in the least. He struck out on his own, strumming his twelve-string, playing solo concerts at small clubs and colleges on the East Coast. And, too, he plunged himself into the big-city bright lights, sleazy streets, backrooms, bedrooms and barrooms of concrete glass and steel urban America.

This was the mid-'60s, when the Jefferson Airplane had soared from the earth, when the Grateful Dead was wailing out the full-tilt boogie to acid-sloshed, rosy-cheeked, beamy-eyed baby-boom children who had discovered Nirvana in a pill, love in a vision, and community, harmony, personal freedom and social cohesion in two tokes of red-earth grass.

Nature was in, cities were out; touching was in, guilties were out; drugs were in, booze was out. And music, as we know greased the madcap whirrings of it all, inciting the passions and infusing the revolutionary hopes and dreams of an entire generation.

Tim explored it all. When he cut Goodbye And Hello in L.A. in June of 1967, his point of view and musical style perfectly matched the searing energy and idealism of the times. Goodbye And Hello became (and remained) Tim's biggest hit.

The mothering young women justifiably swooned over the sad-eyed poetic melodies and words of Morning Glory ('I lit my purest candle...'), Once I Was A Soldier and Phantasmagoria In Two ('If a fiddler played you a song, my love...'). The political protestors embraced him for No Man Can Find The War and the massive anti-establishment poem, Goodbye And Hello (lyrics of both by Beckett). Buckley was in.

Goodbye And Hello was significant beyond its popularity. Tim had begun writing his own lyrics with a personal commitment and vulnerability he had never shown before--Pleasant Street, a darkly powerful song about the illusory and destructive nature of drugs (which, ironically, he continued singing until the end); Once I Was, a stunningly poignant song of love lost; the melodic Phantasmagoria, his first non-rhyming composition; and the bombastic I Never Asked To Be Your Mountain (to his Pisces ex-wife, Mary), in which he for the first time incorporated asymmetrical rhythms and began to awe his listeners not only with the round, seductive natural tonal qualities of his voice, but with the already astonishing technical dexterity with which he was beginning to use it.

Five of the ten songs were his own in their entirety. On the other five, he wrote the music to Beckett's lyrics. Buckley was an uneducated, lower-middle-class street dude who knew nothing about the formal and academic aspects of chords, voicings, harmonies, melodic structures, etc. He never took a voice lesson, nor, as mentioned above, could he place his left index finger flat across the guitar board and make a barre-chord. When you listen to what he did musically to the complex mass of Beckett's often ponderously "literary" lyrics of the song-poem Goodbye And Hello (uncredited arrangement by Joshua Rifkin), you immediately perceive the natural brilliance of this then-budding boy/man singer and composer.