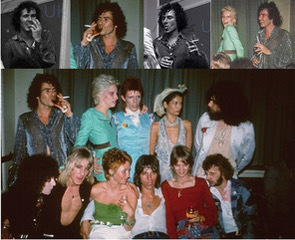 I can say definitely that picture is not of Tim - although there is a passing resemblance - for several reasons, according to Judy:

1) Tim was not in the UK at that time.
2) Tim would never have worn that shirt, especially unbuttoned like that.
3) Tim's hair was much shorter by that time
4) Most damning - Tim never, ever smoked cigarettes, There is a picture on our website with him with a cigar, but that was a joke prop.

That would not be there first time that someone had impersonated Tim, if that was indeed what happened. Joni Mitchell relates a story here.


Regards,
Llew

----

When I started on this project, I was satisfied that it wasn't Tim (thanks mainly to words from Lee Underwood), but so many Bowie fans kept throwing his name back at me that I knew I had to categorically prove that, irrespective of the photograph, that Tim was not at the party on the 4th July 1973.

Your confirmation about the cigarettes & the shirt is really interesting – every person I've contacted about Tim has said exactly the same thing – but the photo on the website, with the 'fake' cigar, had wrongfooted me – thank for letting me in on the joke.

Thanks for the Joni Mitchell clip. I wonder if the guy in the Bowie photo is the 'fake' Tim Buckley! Your website says that, at the time the page was created, that information on the source was missing – this link will fill in the gaps.
If you do get others asking the same question about the Bowie photograph, then please do send them to the website I've create for the project – bowiesmysteryguest.com
Kindest Regards,
Lee Grant
Bowie's Mystery Guest
https://bowiesmysteryguest.com
www.facebook.com/bowiesmysteryguest
www.twitter.com/bowiesguest