Ode to Tim Buckley
by Derk Richardson
Tim Buckley's best shot at rediscovery may have washed up on the Memphis Harbor shore last year. That was where, on June 4, 1997, a riverboat crew found the body of his 30-year-old son, Jeff, who had been missing for six days.
Tim Buckley had actually been dead for nearly 22 years when the son he barely knew went wading in the big muddy river and drowned after being swept under the Mississippi River waters by the wake of a large boat. But he was alive in the hearts and minds of many.
In the bright light surrounding Jeff Buckley's fledgling but soaring career -- a career built on one EP, one full-length CD, and a host of incendiary live performances -- Tim Buckley's radical musical legacy garnered a certain amount of reconsideration. But with the tragic demise of the son, I fear the equally tragic but incomparably brilliant father has been cast back into the shadowy margins of pop music history.
Why dredge him up now? Because Tim Buckley was born on Valentine's Day, 1947, and every Valentine's Day I pull out the CD version of Tim Buckley's 1966 eponymous debut and bathe myself in his Valentine Melody. And because that inevitably leads me into a listening orgy of every Buckley recording I own, including the nine studio albums he recorded from 1966 through 1974 and the handful of live recordings that have trickled out since his death in 1975.
Because, despite the occasional print paean, such as Scott Isler's July 1991 profile in Musician magazine and Martin Aston's July 1995 story in England's Mojo, Buckley has yet to be honored with the kind of box-set, remastered CD retrospective his career deserves. And because I just can't pass up any opportunity to infect others with the Buckley bug.
The musical way in which Buckley channeled his emotions and applied his voice seems every bit as revolutionary now as it did in 1971 when he released his startling masterpiece Starsailor. Maybe even more so...
Buckley's thumbnail biography is ultimately as unenlightening as a recounting of his less-than-blockbuster record sales. He was born in New York and spent his adolescence in the Anaheim/Orange County area of Southern California. Smitten with the collegiate folk revival of early '60s, he started playing music with friends. One connection -- drummer Jimmy Carl Black of the Mothers of Invention -- led to another -- Herb Cohen (manager of the Mothers, Lenny Bruce, Fred Neil, and Captain Beefheart) -- and yet another -- Jac Holzman of Elektra Records.
Well before he turned 20, Buckley had married, dropped out of college, fathered a child, divorced, become a coffeehouse performer, and recorded his first albums under his Elektra contract. As unsettled in his relationships as he was in his musical styles, he battled constantly for both his soul and his artistic integrity, experiencing intermittent successes and frustrating failures in the realms of romance and self-expression before dying of an accidental heroin-morphine-alcohol overdose on June 19, 1975, at the age of 28.
But the two things that mattered most were his voice and his musical vision. Possessed of a remarkably flexible, Irish-rooted tenor, Buckley sang with unfettered passion, extreme vulnerability, and uncanny virtuosity. He inspired such purplish prose as Isler's description of his singing: "His warm tenor curled around listeners like mellow pipe smoke. Its throbbing resonance bored into the heart with surgical precision."
Words like "ethereal," "naive," "honest," and "heroic" trip off people's tongues when they recall the way Buckley communicated with that voice. But his most telling album title was probably the prosaic and oxymoronic Happy Sad. As Jac Holzman noted to Isler, "To some extent he was the bright side of people's tortured souls, and maybe of his own tortured soul. He could express anguish in a way that was not negative."
The musical way in which Buckley channeled his emotions and applied his voice seems every bit as revolutionary now as it did in 1971 when he released his startling masterpiece Starsailor. Maybe even more so today, when the pop music idea of experimentation is often nothing more than another technological twist on "postmodern pastiche." Absorbing influences ranging from Dylan and the Beatles to the electronics and avant-garde composition of Karlheinz Stockhausen, the word-jazz of Ken Nordine, the "sheets of sound" of John Coltrane, and the fusions of Miles Davis and Ornette Coleman, Buckley rapidly progressed from a psychedelic-tinged, acoustic 12-string guitar-strumming troubadour into a shocking stylistic renegade. He was a romantic, and he was wondrously weird.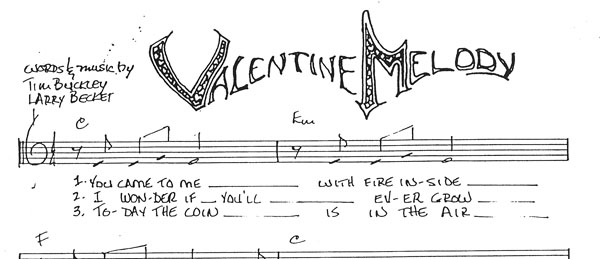 As his albums became more experimental -- from the baroque pop-rock of Goodbye and Hello and chamber folk-jazz of Happy Sad and Blue Afternoon through the spacier Lorca to the shivers-inducing Starsailor -- he made his voice moan, warble, and wail from oceanic depths to Yma Sumac-like peaks; he toyed with song structures and tempos, brought unusual instruments, such as vibes and pipe organ into the mix; and he adhered to an improvisational aesthetic like few others in pop music before or since. It's for good reason that producer Hal Willner, who staged a Tim Buckley tribute concert at St. Anne's Church in Brooklyn in 1991, argues that Buckley "should be seen on the same level as Edith Piaf and Miles Davis."
Buckley had his genre-defying peers, of course -- including Fred Neil (whose song, Dolphins, Buckley often performed in concert and recorded on 1974's Sefronia), Van Morrison (whose Astral Weeks is often cited as a parallel to Buckley's boundary-dissolving work), Laura Nyro, Nick Drake, and the Grateful Dead. But there was/is something uniquely haunting about the sound of his voice and his music. Maybe it stems from his early death. Maybe it hinges on the chameleon nature of his sound (in 1972, Buckley went for the jugular of funky rock and roll with the torrid, lyrically lascivious, and musically raunchy Greetings From L.A.)
Then again, maybe it's just me. In 1975 my father described the experience that knocked him off the wagon he'd been on for 11 years. He was walking up Sutter Street in San Francisco when he looked into the eyes of a raggedy man shuffling towards him on the sidewalk. He saw nothing but the most profound sadness in those eyes. The next doorway was a bar. My father turned in and had the drink that sent him on the most harrowing bender of his life.
I never saw Tim Buckley perform in concert, but in the early 1970s, I saw him walking alone on Santa Monica Blvd., not far from the Troubadour in West Hollywood. It was a hot, bright, clear summer day. I don't think I've ever seen a sadder looking figure. When I listen to his music today, all that melancholy comes rushing back, but in a way that is soul-cleansing, in a way that exposes the human potential for joy as well as for suffering.
And my Valentine's Buckley binge prepares me for the spring that is just around the corner.
Derk Richardson
February 12, 1998

Derk Richardson is a veteran music writer who lives in the Bay Area
This article appeared on sfgate.com