May, 1985
Tim Buckley -- The Interview

by Michael Davis
The following interview took place in April 1975, two months before Tim Buckley's death by chemical misadventure. He had just removed himself from the cross fire between his management firm and his record company and had an upcoming date at the Starwood club in Hollywood, so he was eager to talk to the press.
He was open to discussing his entire career and some of the philosophical underpinnings of his music, not just his then-current situation, and came off as one of the brightest people I've talked to in twelve years of interviewing. After his stupid, tragic death, some spoke of him as a burnout, but this was definitely not the case.
His Starwood show was a success, a far cry from his Bitter End West gig a few years earlier with the Starsailor band, where he had had to charm the waitresses out of cleaning all the tables off so he could do a couple more tunes at the end of the night.
He drew a healthy crowd to the Starwood and the music was fit as well. Older tunes like Buzzin' Fly and newer ones like Get On Top Of Me Woman both benefited from his quintets solid if hardly exploratory, funk-rock style and his voice was in fine form. Backstage, Buckley told me that plans were in the works for a live album; it was never to be.
Listening back to this interview tape, a chilling moment occurred at the end when, after Buckley had mentioned Lenny Bruce several times, I noted that Bruce had a reissue album on the charts. The idea that Bruce could have a posthumous hit cracked Buckley up but good.
Yet in 1984, Rhino Records issued a Best of Tim Buckley LP and his star is once again on the rise, particularly in England. Ex-Teardrop Explodes leader Julian Cope has spoken highly of him and a version of Song To The Siren (from Starsailor) recorded by This Mortal Coil, a one-off project featuring vocalist Elizabeth Frazer from British chart-toppers the Cocteau Twins, has spent several weeks in the British single charts.
Makes you wonder if somewhere, Buckley's spirit isn't enjoying an ironic chuckle at it all.
---
Goldmine: Tell me about the management and record company changes that are going down at this point.
Tim Buckley: It's basically just a cleaning house. The management, which I'm no longer involved with, has been a big problem and that was tied in with Warner Bros. so there was bad blood all around. I wasn't really involved with it but my music was getting the bad end of it. My music wasn't getting promoted, period, and since I feel really deeply about every project I do, I hate to see 'em die like that. All I know is that I'm free and it's great.
Goldmine: I assume you're searching for another record company at this point?
Tim Buckley: Right, preferably one where one man makes the decisions. The first record company I signed to was Elektra and it was Jac Holzman that made it all happen. Talking to one man is really phenomenal, knowing that something is going to be done. When you're talking to a committee... I don't know. There are large companies where one guy does it: Ahmet Ertegun at Atlantic, Clive Davis at Arista, the ones that have a genuine concern for the artist.
Goldmine: What were your reasons for leaving Elektra in the first place?
Tim Buckley: Jac sold the company. That was the beginning of my problems businesswise, though I didn't know it at the time. I knew that it was real sad and I also knew that I probably couldn't go on at that high pitch of big business. When he left Elektra, a huge gap opened as far as quality in the music.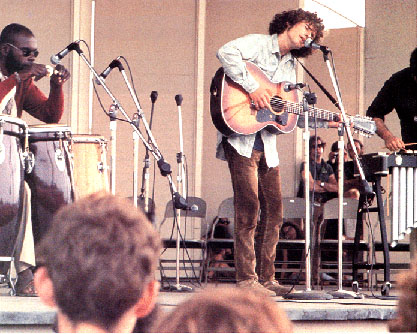 © Elliot Landy/Landyvision.com
At the Newport Folk Festival, Newport, Rhode Island, 1968 with percussionist Carter Collins (left) and half of vibraphonist David Friedman

Goldmine: Are there any musical changes going down at this point?

Tim Buckley: Well, I'm not gonna write about record companies and management (laughs). Musically, it's not the same as Greetings From L.A. or Sefronia or Look At The Fool. In a lot of ways, it's more simple but then again, more musical. Have you ever met anyone who could successfully explain his music at any given time? If you have, you've talked to a Top 40 artist (chuckles). I really don't know until I hear the first tracks back.

Goldmine: Have you done any recording towards the next project?

Tim Buckley: Uh, no. I've written a few things that are ready to play but I still don't know how they're going to sound.

Goldmine: What sorts of artists were you listening to when you started getting your music together?

Tim Buckley: Well, I was never a folkie. I was always rooted in African rhythms. I still listen to Duke Ellington; all those people playing together as a quintet is just amazing to me. That takes great writing and a great understanding of the people in the group. I pretty much went on that principle with the quintet; I try to understand the people that work for me as well as he did his.

He would write for what they were good at. If you don't do it that way, the music just becomes a prop for the lyrics. It's okay to .... one the same way. If you've said it once, you should just leave it alone until you've gone through a process where you either understand the situation better or put a new slant on it or something.

Goldmine: How were you exposed to these African rhythms?

Tim Buckley: Through dance groups and people like Olatunji. In New York, African, Latin, Puerto Rican and African things passed through from time to time. Also, working with Carter (C.C. Collins), my conga player.

Goldmine: Out here, you were associated with the fabled Orange County folk scene.

Tim Buckley: It didn't exist. Jackson Browne was from there; I wasn't. I just happened to play there a couple of times. I was from New York and Washington, D.C.; when we moved here, it was the City of Commerce, Bell Gardens. At that time, the folk thing was really booming and the kids in the suburbs needed guitars; it was very important to be just like the Kingston Trio or the Limelighters.

So I was buying up these Martin guitars at downtown L.A. pawnshops -- the guys there didn't know what they had and some of those Martins dated back to the '30s -- and I was running them out to the suburbs and meeting these strange rich people who were buying their kids guitars. Now those kids are probably lawyers or wiretappers or whatever.

That's how I got into Orange County. I found a few clubs that served sassafras tea and coffee that were actual coffee houses with no liquor so a brat of my age could play there. Before that, I had played in country bands, lead guitar and stuff, and I could play in bars because they didn't care.