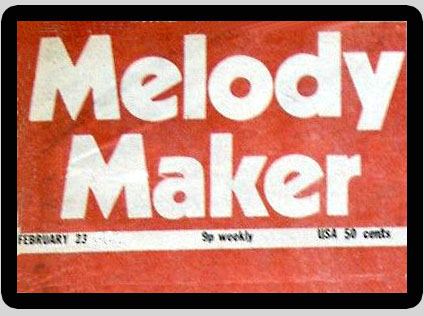 May 25, 1974

Starsailor

Steve Lake talks to the West Coast legend who now says he's into pornography...

By Steve Lake

Tim Buckley is a singer/songwriter with a difference - he forever changes direction. There's a line in Cafe side two, track two on Blue Afternoon which runs: "I was just a curly-haired mountain boy, on my way passing through." But Tim Buckley, author and utterer of those words, has never been just anything.

Any kid who at the age of eleven is preoccupied with expanding his vocal range, and at fourteen and fifteen is hustling to be allowed to sing in folk clubs, has to be something out of the ordinary. Buckley was, and, of course, still is.

While most singer/songwriters are one-dimensional characters who after initially arousing interest continue as mere parodies of their public's impressions of them, Buckley, in nine years as a recording artist, is consistently changing direction.

Using only his inspired artist's intuition and his sense of irony as a guide, Buckley will set sail fearlessly for uncharted waters.

Hence Starsailor, his 1970 masterpiece that left many of his original folk-oriented fans totally confused, while many jazzers welcomed him as a rightful heir to Leon Thomas.

But even that favorable pigeon-holing would've been too comfortable for Buckley's far-reaching imagination. Yet at one time it looked as though Starsailor was to be his final statement.

"I respond to anything that's done well, and I've been influenced by all of it."

After its release, Buckley hung up his twelve-string for eighteen months and took stock of what had been going down.

He got himself married, and is now foster-father to an eleven-year-old boy named Taylor. The implication being that wild Timmy had finally settled down. No chance.

The rock and roll circuit might be a painful business for a child prodigy turned misunderstood creative genius, but being away from the stage was more painful still.

So Buckley roared back with a new band and a new album Greetings From L.A., and brought with him fresh shocks.

The fragile nineteen-year-old who had sung "in the scarlet light of Valentines, our paper hearts are blind" back in 1966 had been superseded by a bellowing, super-virile stud, hollering "whip me, beat me, spank me, oh mama make it right again."

And it's this stud persona, albeit slightly tongue-in-cheek, that Buckley seems hell-bent on promoting.

Last week, Buckley and manager Herb Cohen arrived in London for a couple of days to attend a Warner Brothers party given to launch DiscReet Records. Warners will be distributing Tim's Sefronia album over here later this month.

I found the man perched forward on the edge of an armchair in a Kensington hotel room, gazing longingly down at the suntanned, glistening, widespread thighs of a foxy young lady, splashed across a gatefold spread in one of those Paul Raymond glossy mags.

"I just adore pornography," he moaned. "I mean, will you just look at her? Isn't she just the loveliest little thing you've ever seen..."

It seemed like an apt moment to air a personal fantasy. From the track titles, rhythms and arrangements of the first side of Greetings From L.A. (the tracks are Move With Me, Get On Top and Sweet Surrender,) that the whole had been conceived as a linked trilogy, a kind of Orgasm Suite. Would that be reading too much into the songs?"

"Not at all. That's just what it is. It occurred to me that all of the rock and roll sex symbols, like Jagger, Jim Morrison, had never actually said anything sexy. So..(long pause)...I decided to do it."

His face creased into a dirty laugh. Facially, he looks very different from the Dylan-esque romantic poet gazing melancholic from the sleeve of Happy Sad.

The outrageous curls have been severely chopped, and his current trimmed hip hair emphasizes his film star good looks.

Now he looks more like Paul Newman than Bob Dylan, a state of affairs that clearly appealed to more than one young lady at the press reception later, where his every move was observed by a semi-circle of silent admirers who stood transfixed.

But the sex appeal trip isn't Buckley's raison d'etre, by any means, merely one facet of a complex personality. His current activities embrace non-rock aspects of art and music, and his future plans indicate further divergence of his talents and energies.

However, Buckley's future is best explained in terms of where he's already been. He knew the poet Larry Beckett from his schooldays, and Beckett and Buckley were always particularly close, sharing the same highbrow interest in literature.

Kafka, Sartre, the metaphysicals, and Lorca (later commemorated in Tim's album Lorca).

Both Larry and Tim were writing poetry at this stage and experimented with putting their words to Tim's tunes. Early efforts were pretty unsatisfying, but they persevered and Tim began working self-penned material into the sets he was playing in country clubs, the only places he could get gigs in his early teens.

He was never totally country, of course, but...

"As long as you could play The Tennessee Waltz, you were okay. I had a lot of fun."

But it was in New York that Buckley first began to attract attention. And even now, he feels that his roots are firmly in Greenwich Village.

"Apart from the Doors and the San Francisco sound, all of the worthwhile music out of the States in the past decade has come from the East Coast, and specifically New York."

However, it was back in Southern California that Buckley first got a recording break, playing uncredited guitar on the Byrds' first album, and it was during these sessions that he met Van Dyke Parks, Jim Fielder and then Mothers drummer Billy Mundi.

With these notables plus Lee Underwood, an aspiring young jazz guitarist, and with fine string arrangements by Jack Nitzche, the young Buckley cut his own debut for Elektra. Nine years on, it's as fresh and unique as ever.

The same isn't quite true of Goodbye and Hello, the second album produced by Jerry Yester, which, while excellent by any standard is very much a product of the era in which it was made, that euphoric "Summer of Love," California, 1967.

Still Buckley was already stretching out, experimenting with his amazing vocal tubes, actually managing to affect at least half a dozen different voices for the labyrinthine complexities of the album's title track.

And all the time, reflecting and playing off the innumerable influences that he'd absorbed in his formative years.

"Ray Charles, Hank Williams, Clapton, Hendrix, Morgana King, Cleo Laine, Little Richard, Nat King Cole, Roland Kirk, Peggy Lee, Duke Ellington, strippers, classical music, avant-garde, from Stravinsky on, Messaien, Penderecki, Balinese music...

"I respond to anything that's done well, and I've been influenced by all of it."

After the recording of Goodbye and Hello, the Buckley-Beckett collaboration ceased to function for three years, during which time a further three Buckley albums were issued, Happy Sad, Blue Afternoon and Lorca.

"Larry got very involved in what he was doing at the time, which was writing an eighty page poem about Paul Bunyan, and he moved to Portland to do research. It's an American epic, and really brilliant."

Happy/Sad, a reflection, presumably on the depressive side of Tim's character, marked a move towards lyrical economy, but backings became ever more subtle and jazz-like.

With Lee Underwood and vibist David Friedman achieving a quiet empathy, the music often sounds like the Larry Coryell period of the Gary Burton quartet, playing ballads.