Larry Beckett Interview
April 3, 1999
by Ritchie Unterberger
This interview was conducted for the chapter on Tim Buckley in the book 'Urban Spacemen & Wayfaring Strangers: Overlooked Innovators & Eccentric Visionaries of '60s Rock'.
Larry Beckett co-wrote much of Tim Buckley's material with the singer-songwriter, particularly on his earliest albums. He was also a close lifelong friend of Buckley, and played in a band with Buckley before the vocalist got signed to Elektra Records as a solo artist. He talked at length about his association with Buckley in the following interview.
Actually, if we can back up a little bit, when I met Tim singing hootenannies in high school. He wasn't writing any songs, and I wasn't playing the drums. Nor was I writing any songs--I was writing poetry. So it was like everything was in seed, not yet to happen. And we became friends, and I would be hanging out with him listening to him run through his repertoire of stuff that he'd learned out of Sing Out! or off some old Johnny Cash album.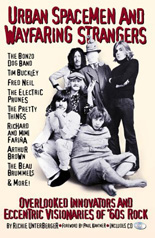 And this was the time when the Beatles and Dylan were showing that you could write your own material instead of just relying on songwriters. It was kind of like a sea change, really. Because always in the old days, like Elvis would always sing--you'd have a specialist a songwriter and a specialist singer and a specialist musician. Then in the sixties, everything --they found that they could fuse everything somehow. It gained some authenticity and maybe lose a little bit of skill by writing their own songs and then singing them. Because that was in the air, and I had the idea of writing lyrics, I suggested to him that he start writing his own material. And he said okay. This would be late '64.

Then we formed a band after we'd written a number of songs, and started playing little crazy gigs that usually Fielder would line up. Parties and high schools, proms, crazy things like that.
The whole thing was centered around Tim' s voice. He had an amazing, brilliant, soaring, powerful, captivating tenor voice. He was an absolute natural as a singer and a musician. It wouldn't have mattered what context you had landed him in, what time in the history of the world, or what space. The same thing would have happened. They would have said, god, that guy can sing!

We would be writing our sort of like weak pop songs, and he would stand up and start singing them, and then everybody would go oh my God! The same thing they said when he was singing folk songs by himself, solo acoustic. So it really didn't make any difference. It was the sound of his voice. It certainly, at that stage, certainly wasn't my lyrics at all. Or--he would be writing--I have a tape, actually, of that band, the Bohemians, of twelve songs. A few hard rockers, and I never knew where he came up with that kind of sound. And then some actually original, pretty, melodic pop ballads. But then when he would start to sing them, the sound was so gorgeous that you really didn't--it transcended all of the other limitations.

[I make] a tape for various people like you of things he used to sing. And that would include The Water Is Wide in Pete Seeger's version, Big River in Johnny Cash's version, One for My Baby in Frank Sinatra's version. And Quit Your Lowdown Ways, which I think he learned out of Sing Out, since Dylan's bootleg version hadn't surfaced yet. Or To Sing For You by Donovan, or The Dolphins by Fred Neil, or Green Rocky Road by Tim Hardin. All those songs--or Geordie by Joan Baez.

He was totally eclectic, totally accepting of every kind of music. He had no absolutely aesthetic devotion or fixation on rock'n'roll or folk music or folk-rock or anything like that. And as a matter of fact, in the early gigs, he would often stop after like a fifteen-minute extended raunchy blues and then sing One for My Baby, to everyone's total astonishment. And his voice, once again, was so beautiful, so convincing, that it didn't really matter.

Tim claimed sometimes that he played Roger McGuinn's parts on early Byrds records, which was obviously untrue. What motivated him to say that?

It never happened, and he kind of played pretty fast and loose with the truth. All through those early years, claimed to have slept with lots of women where it never happened. Claimed to have done things in music that never existed. And he had some kind of deep-down inadequacy that he was making up for with language. I can see at this distance--at that point in time, it was hard to tell what was true and what was false. But after a while, it became sorted out. You had to look at the context, too. He might have not respected the interviewer and then told them a tale just to demean them, things like that.

What did that six-song demo for Elektra sound like?

I thought there were four. I can only remember four, but it could be six. It's a shame, you know, the circumstances of that were really strange in that we had never really played in an actual recording studio in downtown Hollywood studio or anything. They put up all these baffles and things so that they could not have leakage from the different mikes. So we couldn't see each other. And we protested, but it was to no avail. So everybody missed their cues, the tempos were all totally screwed up, and the band sounded absolutely dismal.

Of course, Tim sounded great, as always. And they hired him, not the group. To my recollection, it wasn't a demo for Elektra, it was just a demo that Herbie [Cohen, manager] was going to shop around. And Elektra was like the second person he took it to. [Jac Holzman] understood immediately where Tim was coming from. His true worth. I only remember one--I think She Is was one of the ones we did that session, now that I think about it. Another one--none of the others that I know of wound up on the first album.

" Paul Rothchild would just sit there and say, 'Well, what do you guys wanna do?' And Tim would say, 'Well, I want a cellist to play one note for the entire song...'"

We were just amateur musicians, really. [Bassist] Fielder was wanting to be a professional, and had a bunch of experience. Tim had his own charisma and his own qualities. And then [guitarist] Brian and I were just kind of like doing our best to be creative, which I believe we were. So we were pretty idiosyncratic-sounding. I would do things on drumming, I would intentionally lose the beat and then regain it later in the song as just a little something different in pop music, you know. But everybody resented it (laughs). The sound on the first album is much more polished, finished, than our amateurish efforts. Actually, the songwriting quality is a lot higher.

We were growing really, really fast together as songwriters and went from these kind of cheapish pop ballads to rather poetic expression, and about that time that was when the first album hit. I think that the first album weighs over the early demo stuff. I've got the demo tape of the Bohemians, and I've got acetates of demos for Goodbye and Hello and stuff.