With hindsight, Underwood traces Buckley's depressive tendencies to his father who "suffered a head injury in the Second World War, and from then on his insecurities and rage made life miserable for Tim. He saw Tim's beauty, and called him a faggot and beat him up. He looked at Tim's talent and said he'd never make it.

His mother didn't help : she'd tell him he'd die young because that's what poets always did. So he grew up deeply hurt and feeling inadequate, yet driven by this extraordinary musical talent that possessed him." The result, Underwood ventures, "gave Tim a deep-seated fear of success...he wanted people to love him but, as they did, he pushed them away."

"Long after his death," says Beckett, "I realized that there were very few songs he wrote that didn't have the word 'home' in them. It seemed like he felt homeless, and nothing would restore it. He seemed OK in high school, maybe a little wild, but he got increasingly neurotic. He'd almost welcome a negative comment that would reaffirm his feelings."

When, in 1970, Jerry Yester's wife Judy Henske poked fun at the line "I'm as puzzled as the oyster" in the majestic Song To The Siren, Buckley instantly dropped the song from the set. "He took the smallest criticism to heart," says Larry Beckett, "so that he couldn't even perform a song which he admitted was one of his all-time favorites!"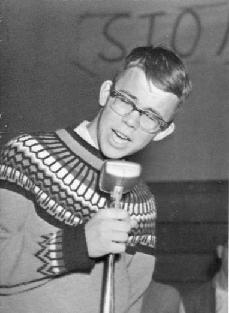 Songwriting partner and one quarter of The Bohemians - Larry Beckett at Loara High

Another incident stands out from this period. Tim's choirboy looks and froth of curls had attracted a Love Generation-style teeny-bop following. At a show at New York Philharmonic Hall, his most prestigious to date, various objects were thrown on stage, a red carnation among them. Buckley stooped down, picked it up and proceeded to chew the petals and spit them out.

"He was very vulnerable and emotional," says Beckett's ex-wife Manda. "It made him terribly attractive to everybody of both sexes. People just sort of swooned around him because he was so sweet. I think that frightened him. He was difficult to deal with because he was scared of his power over people. He almost seemed to reject his audiences for loving him so much. He wasn't mature enough to accept that kind of attention."

Tim would also embroider the truth. At school he'd lie about playing C&W bars, while Larry Beckett remembers dubious boasts of female conquests. Buckley also claimed to have played guitar on The Byrds' first album, which Roger McGuinn always denied. "Tim liked to feed the legend," Beckett recalls with a wry chuckle. "He was quite amoral -- if a lie gave a laugh or strengthened his mystique, that was fine. But his music was always honest."

"If someone dared him to do something, he'd do it," recalls British bassist Danny Thompson, who accompanied Buckley on his 1968 UK visit. "This free spirit was what most people saw, but I also saw a bit of a loner. Unlike most people who get into drugs, he wasn't a sad junkie figure. He was more of a naughty boy who said, 'OK, I'll have a go, I'll drink that.'"

If he admired Hendrix and Hardin and Havens, Buckley frequently railed against the rock establishment. "All people see is velvet pants and long, blonde hair," he fumed. "A perfect person with spangles and flowered shirts -- that's vibrations to them."

"He viewed the blues-orientated rock of the day as white thievery and emotional sham," says Underwood. "He criticized musicians who spent three weeks learning Clapton licks, when Mingus had spent his whole life living his music."

Retreating to his home base in Venice, LA, Buckley and Underwood took time out to immerse themselves in the music of the East Coast jazz titans. Miles, Coltrane, Monk, Mingus and Ornette Coleman all provided inspiration as rehearsals slowly metamorphosed into jam sessions. The day before playing New York's prestigious Fillmore East theatre, Buckley asked vibraphonist David Friedman to rehearse for the show. Seven hours without sheet music later, a new sound was born.

With Happy/Sad (1969), Buckley began to arc away from the underground culture that had launched him. New York photographer Joe Stevens, a good friend of Buckley's at the time, recalls the singer's suspicious attitude towards the forthcoming Woodstock festival. "He said, 'Are you really going? Oh, man, it's going to be awful.' Yet we used to hang out on a friend's farm which was like a scaled-down Woodstock, with hippy girls walking around, weird food, drugs, freedom and trees."

Although Jerry Yester was again involved, Happy/Sad was the polar opposite to Goodbye & Hello's crowded ambition : spacious, supple, a sea of possibilities. The line-up was just vibraphone, string bass, acoustic twelve-string, and gently rippling electric guitar. "The Modern Jazz Quartet of Folk," enthused vibraphonist David Friedman. "Heart music," Buckley offered, and Elektra used his words in the ads like a manifesto. Happy/Sad's only real comparison is Astral Weeks, a similarly symmetrical, fluid work that revels in its lack of boundaries while possessing a unique tension.

"The trick of writing," Buckley felt, "is to make it sound like it's all happening for the first time. So you feel it's all happening for the first time. So you feel it's everybody's idea."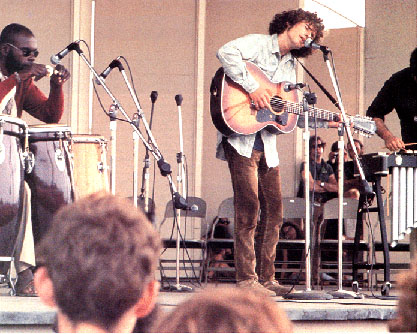 © Elliot Landy/Landyvision.com
'The Modern Jazz Quartet of Folk' at the Newport Folk Festival, Newport, Rhode Island, 1968 with percussionist Carter Collins (left) and half of David Friedman
Van Morrison, Laura Nyro and John Martyn were also melting the walls between rock, blues, folk and jazz; at twenty-two, Buckley was the youngest of the bunch. He'd also caught the jazz bug the hardest. Yester revealed that the band resisted second takes, while Strange Feeling was bravely anchored to the bass line of Miles Davis's All Blues before Buckley's voice set sail, caressing and cajoling.
"Being with Tim was like going out with an English professor," recalls Bob Duffy, Buckley's tour manager at the time. "He was very serious and almost stodgy, exactly the opposite of what you'd think a rock star would be. He wasn't in the music business to get laid. If one of the guys in the band came up and mentioned women, thirteen of them would run out of the room, except for Tim who just sat there, guitar in hand, almost like he was teaching himself the songs again even though he'd played these songs two hundred times, because he wanted the show to be as musically performed as possible. I saw incredible shows that he got depressed about, and wouldn't talk to anyone afterwards -- he was very Zappa-like in that demanding way, but he was one of the sanest people on that level that I worked with."
As its very title acknowledged, despite Happy/Sad's sun-splashed backdrop, musical invention and lyrical joie de vivre, its mood was acutely introspective. Critic Simon Reynolds has described it as "a poignant premonition of loss, of an inevitable autumn..."
Lyrics had clearly shifted to a secondary, supportive role. Larry Beckett says he was politely informed that the singer would pen the lyrics alone. "He was moving toward a jazz sound, so to have wild poetry all over the map, you'd miss the jazz. But it was my feeling too that Tim felt his success was due to my lyrics rather than his music, so he wanted to see how well he'd do alone. He tended to believe the worst about himself..."
"It was very hard for me to write songs after Goodbye & Hello, because most of the bases were touched," Buckley admitted. "That was the end of my apprenticeship for writing songs. Whatever I wrote after that wasn't adolescent, which means it isn't easy because you can't repeat yourself. The way Jac [Holzman] had set it up you were supposed to move artistically, but the way the business is you're not. You're supposed to repeat what you do, so there's a dichotomy there. People like a certain type of thing at a certain time, and it's very hard to progress."
In another interview Tim said, "I can see where I'm heading, and it will probably be further and further from what people expected of me."
"He was very friendly and open to ideas, not a prima donna or a hypocrite," recalls John Balkin, who played bass with Buckley in 1969-70. There was no drugs, sex and rock'n'roll in relation to him as an artist, not like Joplin and Hendrix, getting stoned before and during a gig. He felt stifled and frustrated by the boundaries that be, trying to stretch as an artist but making a living too. I remember Herbie Cohen saying, 'Go drive a truck then'..."