A Tim Buckley Story
by Judy Norbury
The partnership with my boyfriend was going through changes. It was in the days of free love and we both agreed to an open relationship if something or someone came along but never doubted that we would spend our lives together. An opportunity to be part of a craft shop in Vancouver presented itself and we took it. It was really only a pretend shop, not a serious financial venture. It was a storage place for a candle and card maker we knew and a place for us to stay in the city. We called it The Sow's Ear. There was a very large, behind the storefront space, with a toilet and sink with cold water. The ceilings were high with a large central vaulted skylight divided into four panes, a giant cross.
We (being several friends and I) built a sleeping loft and set up a hot-plate kitchen. I had been living in relative isolation for three years away from the media and the music and the life of the city. It was exciting to be part of Vancouver life again. My partner and I would take turns minding the store and minding the country house and dog. Two weeks for me in the city and him in the country and then we'd switch. We spent the winter travelling back and forth. The occasional customer would come to browse our limited selection of arts and crafts, but mostly we would listen to music, smoke dope, cook and eat. We also had to search out places to take baths, as there was no hot water at the shop.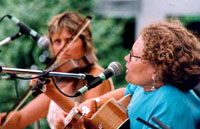 Judy Norbury onstage at the 1999 Vancouver Island Music Fest

After being away from recorded music, radio and records, for three years, I was listening to all the new music I had missed. I had all my old records from when I'd lived in Vancouver but all the new music, plus what I'd missed in the past three years, was what was played on our record player. Among my old LPs were two by Tim Buckley.

Tim Buckley, a folk/jazz/rock singer from California with an amazing voice, had been a great favourite of mine since 1967. His album, Hello Goodbye, got played during acid trips and whenever I was feeling down, Happy Sad lifted my spirits. I had been to a concert he gave at the Queen Elizabeth Theatre before moving to Oyster Bay and enjoyed it greatly. But that winter in the city he was passed over for all the new music I'd not yet heard.

One day in March I was alone in The Sow's Ear, a little high on pot as was often the case in those days, and I thought, "I wonder what Tim Buckley sounds like after all these years?" I put Hello Goodbye on the turntable and lay on the floor to gaze at the skylight and listen to the record. An amazing thing began to happen as the music played. I was propelled into another time and space. I felt I was in a whirling universe travelling back through lifetimes and forward through lifetimes. Stars and galaxies were the highway I rode on.

I felt my whole life was being sung about and every question I had ever had was answered. Every secret I kept was being exposed. As I watched the skylight and its giant cross I felt this was Jesus singing specifically to me. I was impaled upon the music, its electricity twisting and turning me. When the record was finished I was frightened. What had happened to me? Would it happen again? I put on the other one, Happy Sad, and once again the same overwhelming revelations occurred. Every word he sang felt like it was for only me. He sang of searching for someone he had long known but had lost. I became somebody different after that afternoon.

After recovering that afternoon, I now had to behave as if everything was normal. I couldn't really tell my friends that Tim Buckley was looking for me, that he was Jesus Christ and he was going to save the world and we were going to do it together. I kept most of that kind of thing to myself but I did gradually reveal that I had a "thing" for Tim. Soon after, on the FM radio a new Tim Buckley song, Sweet Surrender, was played and I learned that there was a new album in the shops.

Greetings From L.A. fueled my fantasy with lust and excitement. I was completely melted by its raw sexuality and beseeching desire. The same messages were there in all his songs. I suddenly heard the story I had created in my mind in all the different music I heard. I never quite thought I was really crazy. It was too significant and real and it gave me a drive and a purpose.

The world as seen through my eyes became something else completely. I never questioned why this was happening or how. I believed in magic, this was magic and magic was real. Sweet Surrender, the single from the then unreleased Sefronia spoke so specifically to me and oh boy, did I surrender!

Then came word that Tim would be appearing in a small downtown club in Vancouver called The Egress. I got myself to the club on the first night and sat at a table close to the stage. I was very early and had time to take stock of my surroundings. Walking through the club came a small, pale man with short-cropped hair, dressed in an unassuming maroon corduroy jacket. Tim Buckley. Was this slight and rumpled figure responsible for the amazing world of purpose and vision I now inhabited? I felt no connection, no bond to the flesh and blood human who walked by. I sat impatiently through the opening act. Roy Forbes, then known as Bim.

Then it was time for Tim. From the moment Tim sang his first note I was once again transported into that world I'd been living in secretly, only this time he was really there singing, to me, only to me, those songs that now shaped my world. During intermission a women recognized me from childhood, a neighbour of my cousins. She said, "You know he's singing to me!" I smiled at her and in my mind said smugly, "No, actually he's singing to me!" How many of us, I wonder, were affected in the same way by his music?

Of course it was necessary that I speak to him and tell him about this strange thing that was going on. I passed a note for Tim, to, I believe, a band member saying I must speak with him after the show. After the audience had cleared the club he came and sat at my table. I told him my name and he said, "Oh, my wife is named Judy". I said something like "But I'm your wife", and other things I can't recall. He told me I was crazy and needed to see a doctor, but he was quite nice about it.